FusionCash - Since their founding in 2005, FusionCash members have received over $3M. Site members earn rewards for taking surveys, watching videos, reading emails, and more. FusionCash is based out of sunny California, but they have more than three million registrants across the US and Canada.
FusionCash pays you cash to try products and services and take online surveys. It's completely FREE to join. Sign up now and get $5 deposited into your account instantly. You've got nothing to lose and FREE cash to gain!
They may be the Best Get Paid To 'Dinosaur' Site that Isn't in a Hurry to Pay You but They Are Definitely Reliable Payers that Are Still (always) Worth Your While !

FusionCash is still Around and is surely worth your while ! Especially for gaining referrals over time (they all add up and pay off big when payment time finally rolls around)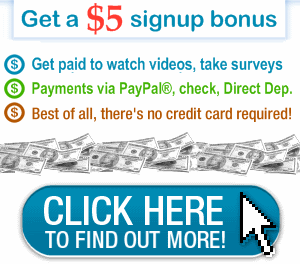 ---
EARNING
How does FusionCash work? Simple! You just register (for free) and pick your favorite way of earning cash. We have paid surveys, paid videos, paid radio, paid to click, paid tasks, cashback shopping, paid to search, and more. Then, after meeting account and balance requirements, you request a "cash out" of your balance and get paid by your preferred method.
How can you afford this? Advertisers and survey providers pay us to send them potential customers and survey takers. This form of marketing is much more effective than standard advertising, because they pay only for fully acquired customers. There is no wasted advertising money as there is in traditional advertising, such as TV or radio spots.
Why are you giving away money? It's simple: advertisers are in need of new customers, and they're willing to pay sites like FusionCash top dollar for each new "lead". We share much of the advertiser's "bounty" with you. The same goes for survey completions, video views, and our other opportunities.
What sets FusionCash apart from other sites? Our motto is "No Catch - Just Cash". We try to be upfront about our policies and realistic about your earning possibilities. We do not charge any fees to send payments, no matter which payment method you choose. We also try to offer a wide variety of opportunities to earn, and you are not forced to participate in anything you do not wish to.
---

OFFERS & SURVEYS
What is an offer, and how do I complete one? An offer is an advertiser's way of gaining customers. An offer may be for a product or service, or merely for registering on a website. We also have offers that pay you for viewing a video, listening to the radio, completing a task, and more. Each offer has different terms for completion, which are usually listed along with the offer description.
What is a survey, and how do I complete one? Surveys are offered by leading market research firms across the country and world. They are generally seeking opinions or other information about a product, service, market, or about your feelings or habits. Surveys vary widely in topic and length, but generally include instructions on how to answer each question. It's vital that you provide truthful responses to ensure the integrity of our clients' research.
How long does it take to get credit for an offer or survey? Most offers and surveys will be credited to your account within 10 minutes. However, they may occasionally take several hours, days, or even weeks to show up. Please read the offer credit information page for more details.
How long does it take to get credit for a delayed credit offer? Most delayed credit offers will be credited to your account within a day or two. Occasionally, the advertiser delays reporting for days or even weeks. Fortunately, a vast majority of the opportunities on FusionCash have typical credit times of under 10-15 minutes.
---
PAYMENTS & REWARDS
Cash outs are approved around the 20th of the month after your request. Once your cash out is approved, you must allow additional transit time for your payment. Checks are cut and mailed 1-2 business days after approval. Delivery is usually within 2-5 business days. Thus, you can usually expect to have the check in hand by the end of the month after you cash out.
Direct Deposit payments appear in your bank account as a line item credit within 1-5 business days of cash out approval, depending on your bank's policies. Thus, you can expect to see the credit post to your account by the 22nd-25th of the month after you cash out.
PayPal® payments are sent 1-3 days after approval. Thus, you can expect to have the money in your PayPal account by the 23rd of the month after you washout.
---
REFERRAL PROGRAM
The referral bonus system is very simple
Refer a friend who confirms his/her email address: $1 bonus
Your friend completes his/her first offer: $2 bonus
Your friend cashes out: $5 bonus (each and every time they cash out - for life)